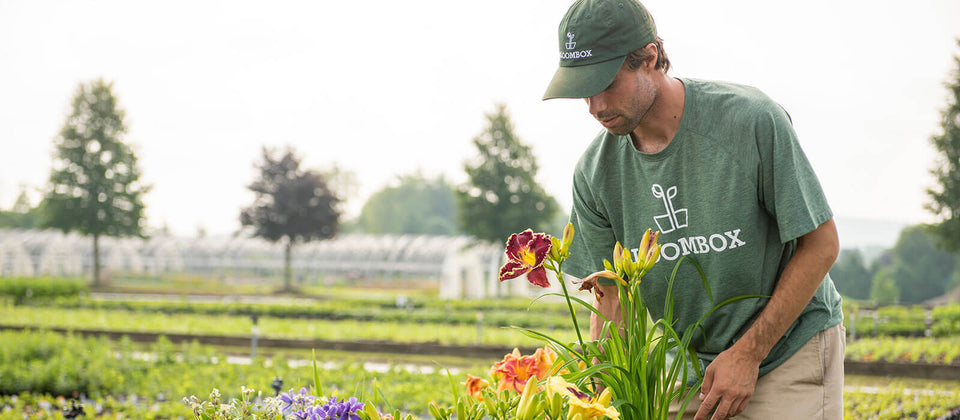 How It Works
What sets BloomBox apart is our dedication to providing high quality plants, service, and great prices to everyone.
We care about the quality of every product we place on your doorstep. That's why our team is involved in every step of the process that gets your plants from sprout to your front door. Here's what goes into each plant's journey with BloomBox:
All of our plants are sourced and grown with care by

the best local, family-owned greenhouses.

Limited to a very select few, we choose our greenhouse partners based on their skill in growing highest quality plants available. Almost all of our perennial crops are planted the previous year and allowed to overwinter to fill out the pots, strengthening their roots and ensuring their success in your flower beds.
TIP: Each of our plant listings will tell you where it was grown!
Our team hand-selects every plant.
We know it's hard to imagine not eyeing up and selecting each plant that you purchase, but rest assured that our team is carefully selecting the healthiest, fullest plants for purchase. Each plant on our site includes a picture of a staff member holding it, so you can see exactly what it looks like when you'll receive it.
And in the rare case something does go wrong, our BloomBox Plant Guarantee will have you covered!
TIP: Add a plant to your wishlist to be notified when it's back in stock!
We then carefully pack your plants in

open-top boxes hand delivered to your door.

Packed by BloomBox. Delivered by BloomBox. We promise we will never cram your delicate cargo in a stuffy box. Your purchases will stay out in the open air where plants belong. You'll receive a message the day we're out for delivery and when to expect us. You don't have to be home when we stop by, but if you are, we love to say, "Hi!"
TIP: Leave your boxes out for your next order and we'll reuse them!