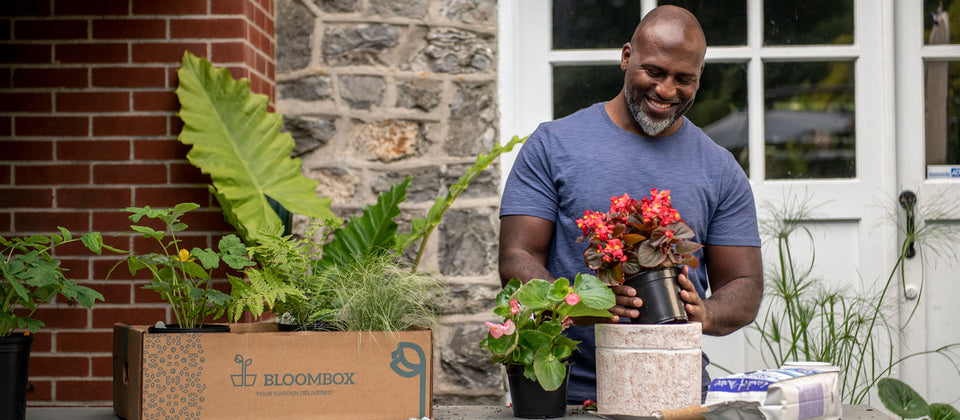 Frequently Asked Questions
General Information About BloomBox
What makes you any different than other plant

E-Commerce

sites?

Tired of getting plants that look beat up in a box? Or receiving twigs? With BloomBox, we control the entire process. Your plants are picked directly from our growing field, placed in a open top box and hand- delivered by our staff, in our vehicles. Your plants never bounce around in third party distribution centers. (If you're home feel free to chat with us about your gardening, WE LOVE IT.)

Am I talking to a real person on your live chat?

Yes, when you use our live chat feature, you are speaking directly to a member of our customer service team.

Where are you located?

We have a headquarters and greenhouse in Lancaster PA. We have a second greenhouse in Baltimore, MD. We do not have a physical retail store at this time.

Where are your plants grown?

We have chosen specific local family owned and operated greenhouses, establishing relationships to receive the highest quality plants available. Under each plant listing will be the original growing location. All of our plants come from our region aside from tropical plants, which are sourced from Florida.

What size are your plants?

It depends on what type of plant you are buying. All sizes are stated in each plant page. Most annuals are delivered in 4.5" pots, and most perennials are delivered in quart-sized containers or gallons. All plants are 100% fully grown, in soil, and are not bare root. They are delivered to you exactly as you would find them at your local garden center.
Orders
Can I hold my order for a later delivery date?

No, we do not offer the ability to hold orders. We pride ourselves in fast delivery of fresh plants :)
Delivery
Will my items be shipped?

No, all Bloombox orders are hand-delivered by a member of our staff, in our vehicles, in an open-top box. Live plants are never boxed.

How long will it take for my plants to arrive?

After placing your order, you can expect your delivery to arrive in 3-5 business days. For example, if you order Tuesday, you will receive your delivery between Friday and Monday. You will receive an email notification at 8 AM on the morning of your delivery day.

Can I pick my plants up?

No, we do not offer order pick-ups at this time.

You added my zip code, why am I still getting an error?

If you previously entered your zip code on our site, received an "out of area" message, and we told you we added your area to the site: you need to re-enter your zip code.

Click the "[Zip code] is outside our delivery area" button at the top of the site
Click the "Try a different delivery zip code" link on the popup
Your zip code should still be in the text field, if not: enter it again and click submit

This should reset all of the internet magic to give you access to shop with BloomBox!
BloomBucks & customer rewards
How do I earn BloomBucks?

You earn 'BloomBucks' by accruing points. You can redeem 5 BloomBucks for every 100 points you earn to use on a future purchase. You can even save up your points for a bigger BloomBucks cashout up to $20! You can earn points by:

Create your account and get 100 points.
Shopping, of course. Earn 1 point for every $1 you spend. It can take up to half an hour for purchase points to be applied to your account.
Referring your friends to shop with us. Earn 100 points for every friend you refer.
Tell us your birthday! We'll give you an extra 100 points each year on your special day.

How do I use BloomBucks?

BloomBucks can be used on any future purchase using their corresponding discount code. You can see all of your available BloomBucks discount codes, points, and VIP reward tiers by visiting your personal rewards page when logged into your BloomBox account. Only one BloomBucks code can be used per order, but you can save your points to redeem them for a larger BloomBucks cashout — up to $20 in BloomBucks!

How do I become a VIP and earn extra BloomBucks?

Each point you earn for buying products, referring friends, and participating in our special promos gets you closer to the next VIP tier.

I just placed an order, but didn't create an account. Is there a way I can still earn BloomBucks for that order?

Yes, we will happily add a previous order's points to your new account. All you need to do is email us at Orders@getblooming.com and we will be happy to do so. *Please note, we cannot add points from orders placed before the current calendar year.

I forgot to apply my BloomBucks to my order. What should I do?

I cancelled my order. Will I get my BloomBucks back?

Yes! BloomBucks from cancelled orders will be refunded as points that can be redeemed again for BloomBucks. They should be returned to your rewards account approximately 30 minutes after cancellation.

How do I earn BloomBucks for inviting my friends to shop with BloomBox?

Visit your personal rewards page while logged into your BloomBox account and select the "Earn Points" tab. The last offer on the page is for friend referrals and has your unique referral link. Use that link every time you tell your friends and family about BloomBox, and when they make a purchase, they'll get $10 off their first order, and you'll get 100 points to redeem for BloomBucks!

How do I adjust the notifications for my wishlist?

By default, when you use our wishlists, you will be notified when your favorite items are back in stock. If you no longer wish to receive those emails, use the "Unsubscribe" link at the bottom of the email.

Where can I check my points and rewards?

Everything you need to know about your points and BloomBucks can be found on your personal rewards page when you're logged into your BloomBox account. Redeem points for BloomBucks, review all your available BloomBucks discount codes, see how close you are to your next reward, and your spending history of points and BloomBucks.

How do I get my birthday BloomBucks?

Make sure you enter your birthday on your personal rewards page by clicking the "Earn Points" tab and selecting "A Birthday Bonus." Enter your birthday in the field and we'll save it to send you special gift on your birthday!
Managing your BloomBox account
I forgot my password. How do I login to my account?

Go to the Login page and click Forgot your password? Enter your email and we'll email you a link to reset your password. Click that link in your email and you'll be able to enter a new password and login.

Can I reorder the same thing I got last year?

No, however you can place an order on the same business day and we will combine and refund any shipping charges. Separate orders placed apart from 1 business day will try to be combined to our best ability.
We're Here to Help

Still Have Questions?